LATEST NEWS
ONSTAGE June 18th at the O2 Islington!
We are kicking off our summer gigs with a blast at the O2 Islington. A great night with great bands and we will be showcasing new album material.
N1 Centre, Angel Central, 16 Parkfield Street, Islington N1 0PS
020 7288 4400

MUSEXPO SHOWCASE IN LOS ANGELES 8TH APRIL!
The band will be showcasing at the legendary Musexpo in Los Angeles this April, to the cream of the American and International music, film and radio industry. Looking forward to an exciting event and year!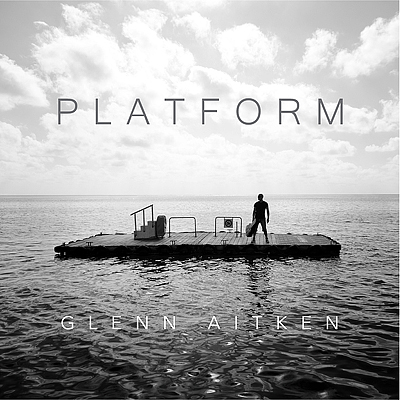 PLATFORM ALBUM LAUNCH PARTY 10th September !
The Half Moon Putney
93 Lower Richmond Rd  London, Greater London SW15 1EU
Tickets available at the door: Doors open 8pm
PLATFORM, the second album - it's here!!
3 years since the launch of Extraordinary Lives, Glenn is releasing his sophomore album, "Platform", in July. It contains 15 tracks. Available on all Digital sites and available now to preorder signed copies below.
'HOLD ON' VIDEO: NOW RELEASED - (Platform)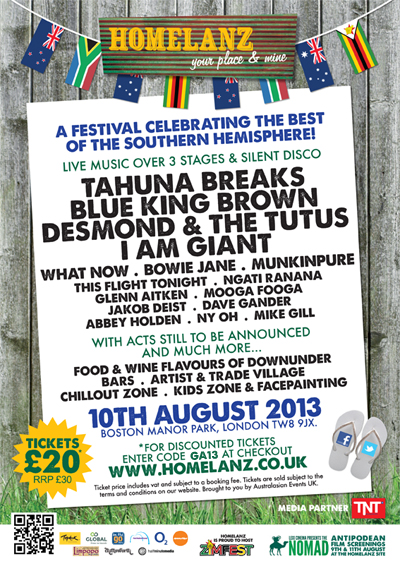 ONSTAGE August 10th with the band at Homelanz Festival, Boston Manor Park!!
Boston Manor Road, Brentford, Middlesex, TW8 9JX.
Visit the website and use discount code GA13 to get 33% discount on ticket prices! See you there!!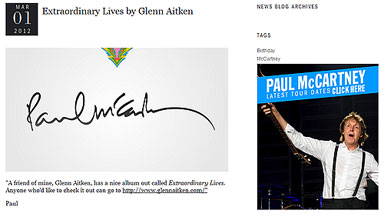 Paul McCartney mentions Glenn Aitken - Extraordinary Lives Album on his website !!
Review of Extraordinary Lives from Royston Ellis - John Lennon saw Ellis as "the converging point of rock 'n' roll and literature"
JUST NO VIDEO: NOW RELEASED!
BBC LONDON LIVE:
Video from Joanne Good's Late Sessions on BBC London, Glenn performs with Simon Small (Guitar) Alex Paolillo (Keys) and Boss Loopstations! Featured are Just No and Overload.
GOOD MORNING TVNZ INTERVIEW
Glenn recently appeared on TVNZ's Good Morning Show to talk about his debut album, and also played an acoustic version of his new single "Just No" - be sure to download the single - available now on iTunes!
RADIO 2 !!
Glenn's new single "Just No" has just completed a month on the BBC Radio 2 playlist! Great to have the song getting national exposure - be sure to download the single - available now on iTunes!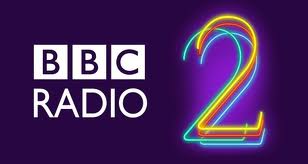 VIDEO - ORDINARY PEOPLE
The official video for the first single "Ordinary People" from Glenn's debut album "Extraordinary Lives"
REVIEWS - The Gibson Guitar Centre August 12th
Quote just in from Music Week - Chris White says:
"New Zealand born Glenn Aitken's musical champions include no less than Sir Paul McCartney - who has signed him to his publishing company MPL Communications - while Glenn's just-released debut album, Extraordinary Lives, has been produced by Grammy Award nominated John Ravenhall.

With those kind of names endorsing his talents, Glenn Aitken is certainly proving his musical credentials.A recent showcase gig at the Gibson Guitar Centre was virtually full to capacity and Aitken's powerful performance indicated that he is indeed a musical force to be taken seriously The Gibson gig will hopefully be the forerunner of many more by this musically thoughtful - and very talented - rock star of the future."
Juliana Koranteng, Billboard / MIDEM News writes:
"Glenn Aitken's performance at the Gibson Guitar Centre was among some of the most assured gigs I've been to. It was obvious he wanted his audience to get as much joy listening to his songs as he got writing them. The single 'Ordinary People' is thought-provoking, while album tracks such as 'Define Me' and 'Why Do You Walk On By' linger on in the mind long after he'd finished singing them. Looks good."
Many thanks to Juliana at Billboard and Chris and all at MusicWeek for attending the event!
"ORDINARY PEOPLE" - Debut Single - Now available for download on Itunes! Includes "Warning Signs". Please CLICK HERE to go to Itunes.
Meet the Band
Welcome onboard to Simon, Sam, Lee and Alex, some awesome and inspiring musicians who have joined Glenn to help take his music to the world, and the next level!